ASAP DIGITAL
---
We've been with ASAP since they first launched onto the Sheffield print scene, offering dynamic digital printing and large format display solutions. It's a symbiotic relationship that works really well, born out of mutual respect and mutually rewarding business. See what we've done for ASAP below.
---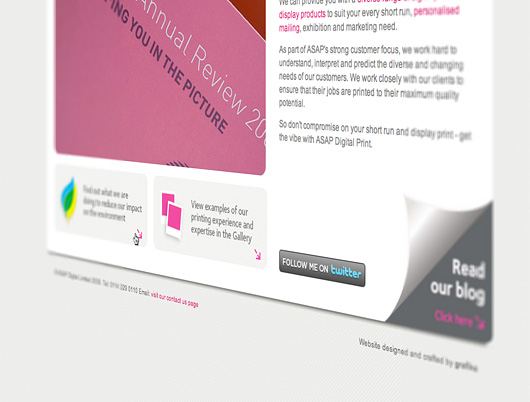 THE ASAP WEBSITE
Simple and impactful, the ASAP website promotes their full range of services whilst providing secure upload facilities for clients' print jobs.
visit site
EASY ARCHITECTURE
Ever mindful of online best practice, Grafika designed the ASAP site to deliver sought-after information within two clicks.
INSTANT RESPONSE
Search engine optimisation has contributed to a huge increase in 'cold' enquiries since this site was launched.

HAVE IT YOUR WAY
You won't find creative prima donnas at Grafika. And we believe everyone has a right to an opinion. So if our fonts and colours aren't to your taste, simply use the tools below to change them.
---
Header Text
Colour:
Font :
Navigation
Colour:
CLIENT LOG-IN
Enter your username and password below to log into the client area
---