EXHIBITION DESIGN & EVENT PLANNING
When your brand is competing for attention at a major trade show, the last thing you want is a low profile. Grafika specialises in exhibition design solutions that demand attention and draw customers to our stands.

We also organise events for many of our clients, specialising in imaginatively themed presentations dressed by our innovative graphics team.

Contact Grafika about exhibition design and event planning >
STAND DESIGN
Combining off-the-shelf systems with bespoke construction, this shell scheme stand for Gooch & Housego was designed with high impact in mind.
GREAT EVENTS
Meticulous attention to planning detail along with lively print and graphics helped this 'Ancient Olympics' themed event for Adler + Allan run smoothly and to great effect.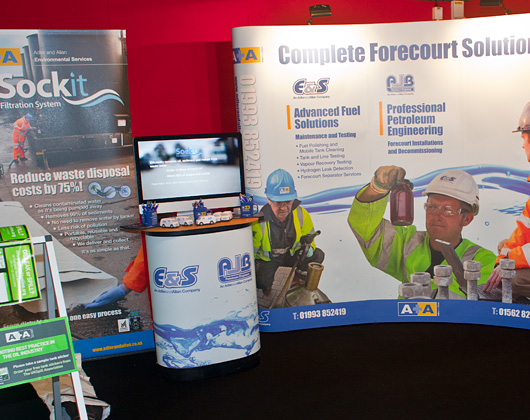 DISPLAY SYSTEMS
Another Grafika speciality is securing maximum visual benefit from standard off-the-shelf display systems.
OUTDOOR IMPACT
Maximum visibility was called-for when we designed a tented display village for Dennis Eagle vehicle promotion.

HAVE IT YOUR WAY
You won't find creative prima donnas at Grafika. And we believe everyone has a right to an opinion. So if our fonts and colours aren't to your taste, simply use the tools below to change them.
---
Header Text
Colour:
Font :
Navigation
Colour:
CLIENT LOG-IN
Enter your username and password below to log into the client area
---