UK COUNTRYSIDE TOURS
The Peak District holds a special place in our hearts, so finding a client and company that shares this passion is a real blessing. We've worked with UK Countryside Tours to create a full house of design solutions to help promote their unique short holidays in Derbyshire.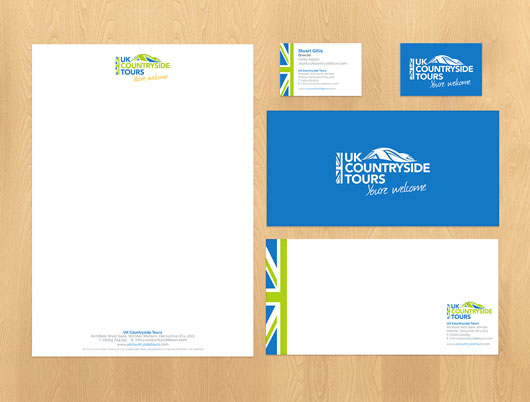 BRANDING & STATIONERY
We worked on creating a brand that reflects the colours and style of the British countryside. The supporting stationery emphasises the colour scheme and various design elements of the brand.
UK COUNTRYSIDE TOURS WEBSITE
A visually stimulating site that aims to inspire and excite the audience to the Derbyshire Countryside. Images of the landscape support the text describing the various tours and experiences offered by the brand.

Visit Site
AUTUMN & WINTER TOURS BROCHURE
Running parallel to the website is a printed brochure, to be distrubted in various ways to support the sale of the tours. Printed to a high quality, the brochure aims to deliver the stunning landscapes of the Peak District to the audience.

View Brochure
MARKETING BROCHURE
To advertise the wide array of tours available in the UK, and to showcase the British landscape and heritage, we worked with our client to create these brochures.

View Brochure

HAVE IT YOUR WAY
You won't find creative prima donnas at Grafika. And we believe everyone has a right to an opinion. So if our fonts and colours aren't to your taste, simply use the tools below to change them.
---
Header Text
Colour:
Font :
Navigation
Colour:
CLIENT LOG-IN
Enter your username and password below to log into the client area
---